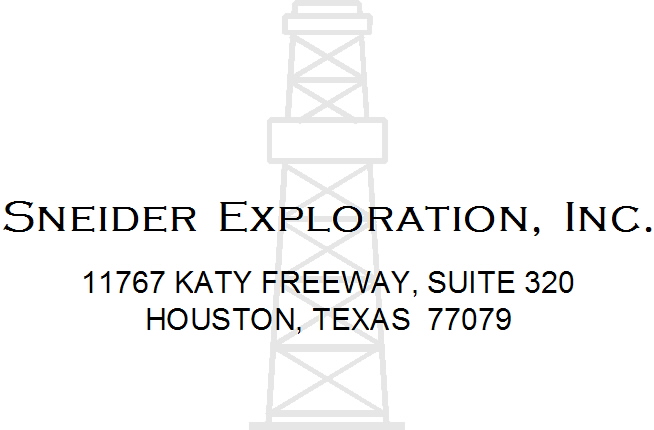 Sneider Exploration, Inc. was formed in February 2000 to manage the oil and gas interests of Robert M. Sneider Exploration, Inc. and John S. Sneider consulting services. Robert M. Sneider Exploration, Inc., was started in November 1981 and was an outgrowth of Sneider & Meckel Associates, Inc. (founded in 1974). John S. Sneider Consulting Services was formed in 1993 and concentrated on integrated studies around the world with a focus in Latin America. Sneider Exploration has a close association with several other small, high-tech consulting and exploration/production companies that have worked together for a significant time. Sneider Exploration, Inc. is a privately held company.

The Sneider Group of companies has three main areas of professional interest: 1) consulting to the oil and gas industry, 2) industry training, and 3) the generation of new development and exploration ventures with strategic partners.

Sneider Group has extensive consulting experience with exploration and exploitation studies using geological, geophysical and petrophysical concepts and methodology around the world but focusing in Latin America, Europe and the United States. Sneider Exploration also has significant experience in North Africa and Southeast Asia.

The Sneider Group has taught 100ís of training courses to the industry including Development Geology and Reservoir Management, Practical Petrophysics, Evaluation of Low Resistivity and Low Contrast Pays, Modern Depositional Environment Field Trips, Carbonate Reservoirs, Sandstone Reservoirs, and the Evaluation of Reservoirs and Seals. Dr. John Sneider provides the basic and advanced training for Development Geology to BP and Shell through their association with the PetroSkills program. Dr. Sneider has taught extensively for PEMEX on a variety of topics.

The Sneider Group has generated new investment opportunities all over the world. It has found or helped find more than 60 fields in the USA, Canada and Australia, and purchased more than 45 marginal fields that were profitably redeveloped. This group was responsible for the investment of over $1.7 billion USD in property acquisition. Sneider Exploration is actively generating projects in the USA, Latin America, Western Europe and Southeast Asia.

The Sneider Group has extensive experience in the exploration and development of low permeability sandstones and carbonate reservoirs in the USA, Canada and Mexico. The E & P methodology used is documented in AAPG Memoir 38.